Embrace the irresistible allure of a complete chess set with a matching board, offering unparalleled beauty for those seeking to adorn their spaces with unique and artistic decor. This exquisite ensemble showcases a magnificent combination of wood, colored pencils, Padauk wood, clear epoxy resin, and brass, resulting in the creation of the finest King, Queen, Bishop, Rook, Knight, and Pawn.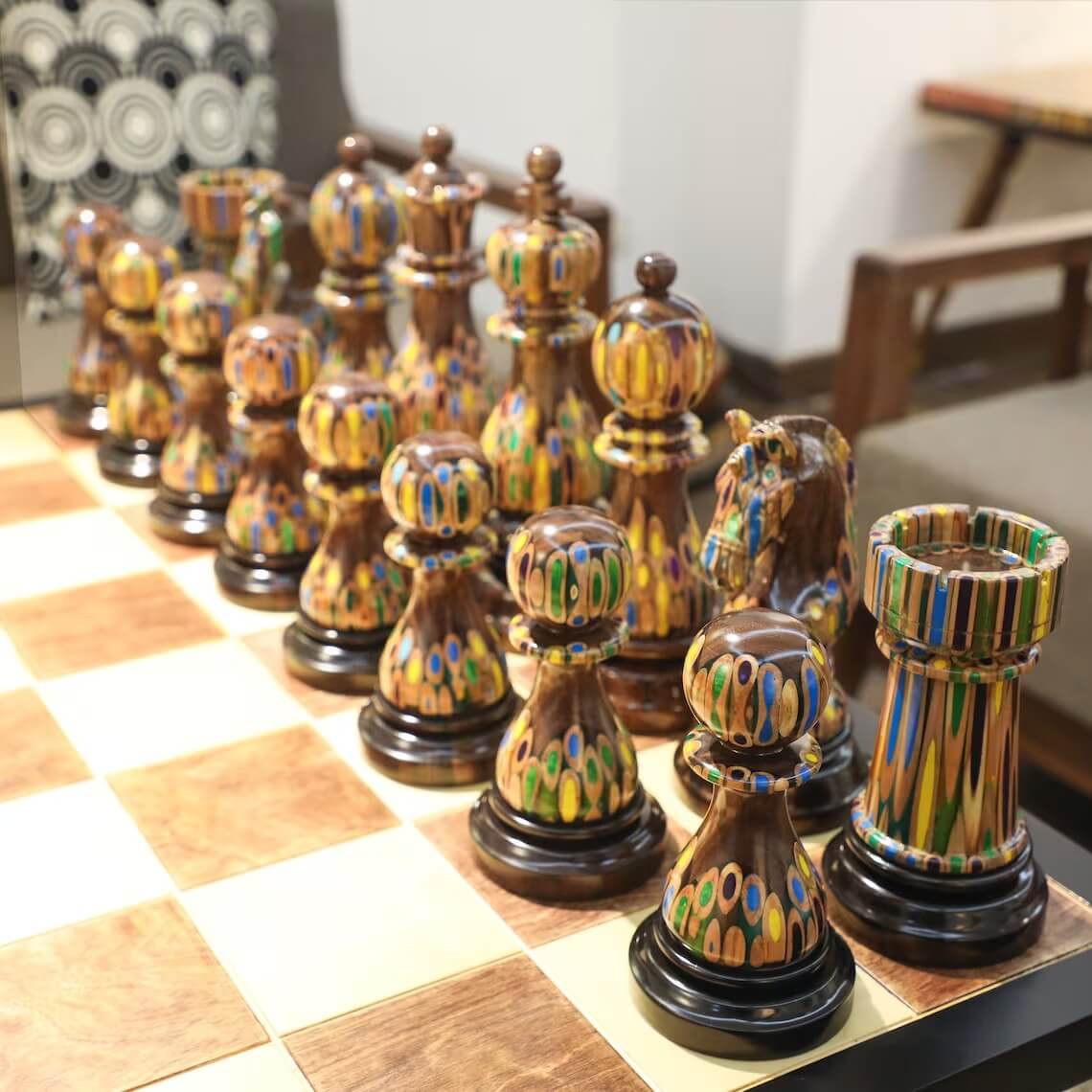 Each piece within this extraordinary set is meticulously crafted, reflecting the dedication and artistry poured into its creation. The seamless fusion of various materials, including wood and colored pencils, adds a touch of elegance and artistic expression. The warm tones of Padauk wood, combined with the captivating translucency of clear epoxy resin, further enhance the beauty and delicacy of these remarkable chess pieces. Subtle brass accents provide a hint of opulence and refinement, completing the ensemble with a touch of luxury.
The complete set, comprising the King, Queen, Bishop, Rook, Knight, and Pawn, elevates the aesthetic appeal of any space it graces. Whether displayed on a tabletop, showcased on a display shelf, or used as a centerpiece for a living area, these exquisite pieces exude timeless beauty and sophistication.
Accompanied by a matching chessboard, this set forms a harmonious union of functionality and artistic excellence. The board acts as the perfect canvas to showcase the intricate designs and craftsmanship of the chess pieces, creating a visually stunning display.
Indulge in the allure of this complete chess set, as it brings together the beauty of wood, the vibrancy of colored pencils, the richness of Padauk wood, the clarity of epoxy resin, and the elegance of brass. Let it become the centerpiece of your decor, evoking admiration and enchantment, while infusing your space with a sense of luxury and refined artistry.