Find all the designer coffee table inspiration you need some examples of unusual coffee tables. From tables with striking sculptural bases, tables with unique decoration and contemporary coffee tables with hidden storage, this excellent interior multi-tasker is the perfect focal point to combine function and timeless interior style.
Best Ideas for Home Decor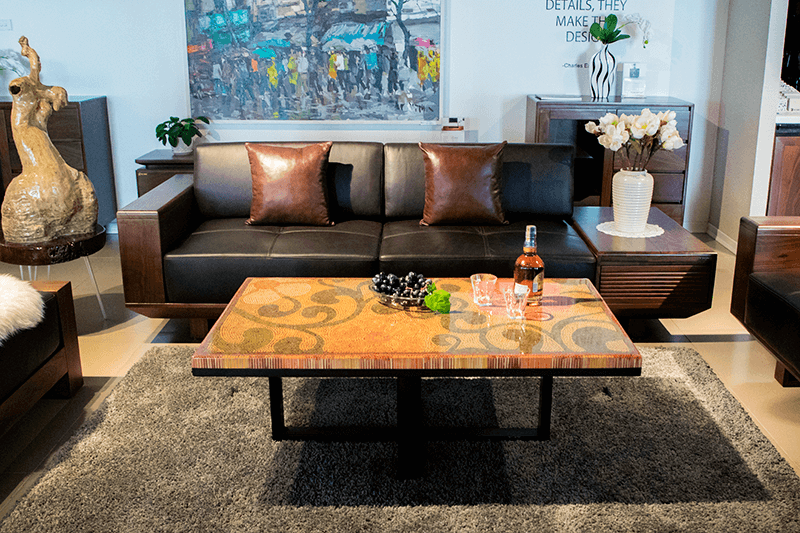 Decorative Colored-Pencil Coffee Tables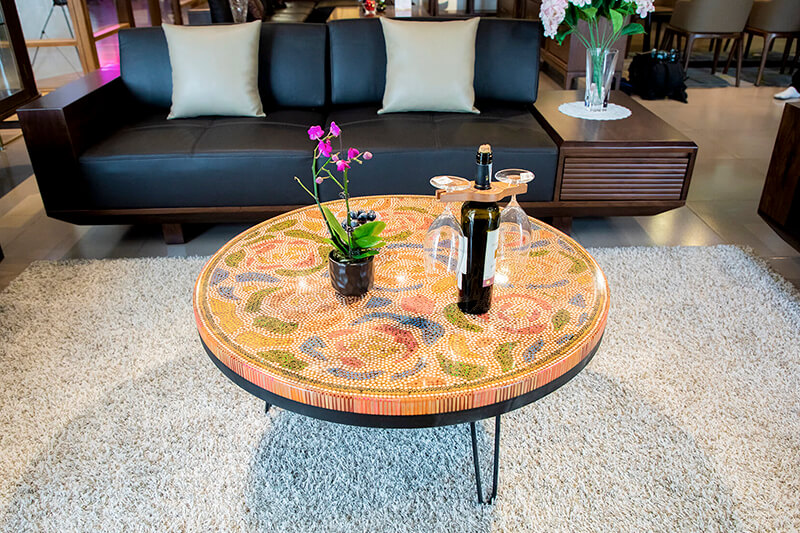 Brighten Up Your Living Space
1. Unique Colored-Pencil Coffee Tables
For a long time, the image of colored pencils has become an indispensable part of each person's childhood. We are so familiar with the crayon image that appears next to the notebooks, paintings. However, crayons have been arranged by the artisans of Nguyen Moc Décor into unique shapes, combining with the metal hairpin legs, wood and epoxy glue that have created outstanding artwork. Moreover, the balance and harmony of the pencil make the table suitable for all spaces.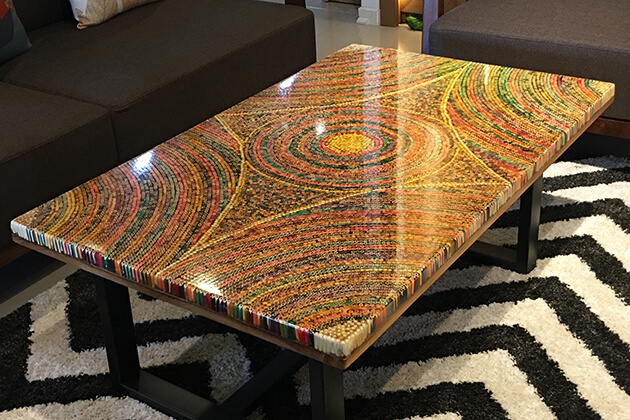 Each pencil table is created by artisans based on different artistic meanings, each one a story, a piece that creates the color of life. It's great when your living room owns such unique and innovative products that you should combine a coffee table with a sofa, for the whole family to enjoy tea after work. This colored-pencil coffee table is the perfect choice for those who want to own unique furniture that is still highly aesthetic.
2. Art wooden coffee tables
For an utterly Scandic expression, be inspired by wood. Created in a choice of natural, stained and lacquered finishes, wooden coffee tables will bring a natural aspect into your design scheme creating a completely unique interior scheme where you need it most. Are you looking for a natural rustic wooden coffee table for your living room? Art coffee tables will bring you an unexpected surprise. Rustic coffee tables are made of naturally durable wood. They also are dried and impregnated chemical anti-termite and carefully processed before being put into production. Thank the meticulous PU paint process, all products have a smooth surface and high durability. Art coffee tables are not only unique but also easy to clean and during use. The products are wrapped in a scratch-resistant foam film and are covered with cartoon cover so the transport is very convenient without affecting the product.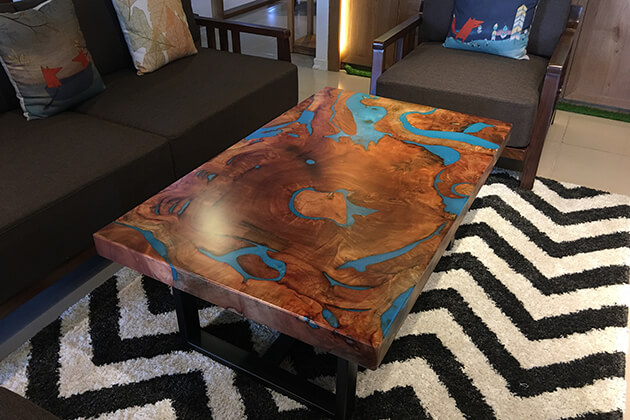 3. Unusual coffee tables with storage
Make your coffee table work harder in your modern living space by choosing a stylish coffee table with incorporated storage – great for keeping coasters and pesky TV remotes tucked away. Clear the clutter in an instant with a super stylish hidden storage coffee table. From magazines and throws to children's toys and coasters, a coffee table with hidden drawers or compartments will lift your whole living room scheme.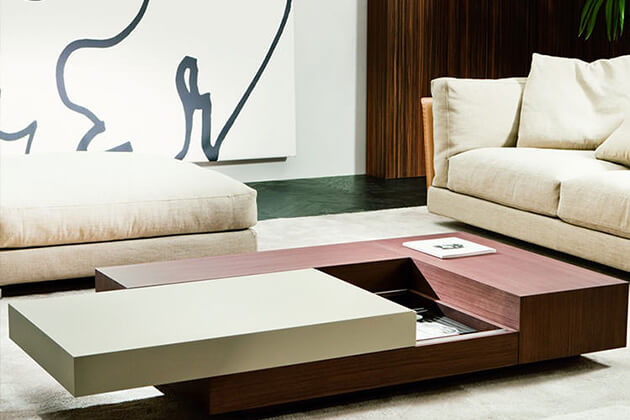 You should use the insert tray of the coffee table. It is not only perfect for storing essential elements in the living room such as TV controls but also can be used to keep your favorite accessories for a beautifully styled coffee table tray. From magazines and throws toys and children's coasters, a coffee table with a hidden drawer or compartments will lift your whole living room scheme. Coffee table surfaces are perfect for styling but too many pieces can make them feel cluttered and untidy. Opt for a coffee table with a second-tier as a clever way to store books, magazines, and additional clutter, while still maintaining the streamlined aesthetic of your design scheme.
4. Unusual glass coffee tables
Allow the natural beauty of your interior to filter through with an unusual top-level glass coffee table. Creating an advanced hallucination of space, glass coffee tables will make your room feel larger and adapt to your home decor like changing your interior style.
"If you do not want the coffee table to be the center of the room, choose one with a glass top and one end mixed with the other in the room. This will keep the eye interested in all the items is not just a design class, "Elizabeth Miller, Forbes.
The glass coffee table is perfect to bring a more contemporary angle to your home interior and work exceptionally well with minimalist schemes and pared-back color palettes for a cool modern aesthetic that will no dating.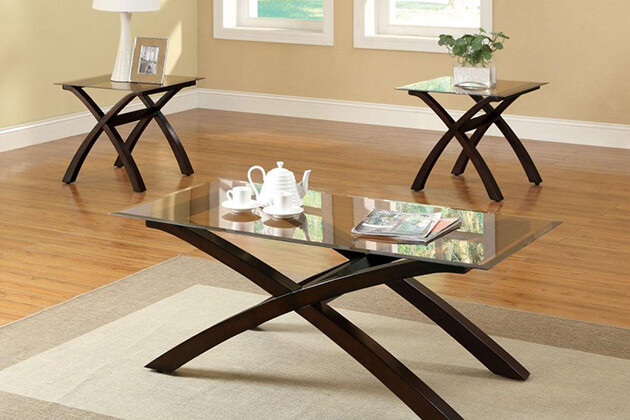 A glass tabletop allows the table to actually have a central stage, a sophisticated coffee table that creates the perfect signature piece and instantly enhances the look of your living room.
Contemplate the contrast in your living room by installing luxuriously upholstered chairs and traditional antique features with an unusual glass coffee table with simple Scandic vibes.
"Top glass coffee tables are ideal for smaller rooms because they do not close spaces." In addition, a glass table does not interfere with displaying a beautiful rug.
5. Unusual round coffee tables
Create an organic environment in your design plan with an unusual round coffee table. Family-friendly, the round coffee table is an ideal place to soften modern plans and create a convivial atmosphere when entertaining guests.
Image :
"Round coffee tables aid circulation, especially where there are a lot of available seats. If not every seat can reach the table, make sure there is another surface at hand," Elizabeth Miller, Forbes.
Because coffee tables often have a central stage, it can be the perfect piece of furniture to introduce a style to space. We love this Mid Century collection from Ercol.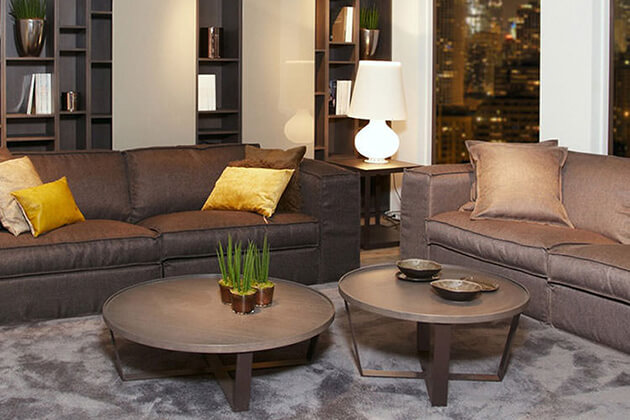 6. Unusual small coffee tables
Consider the smaller coffee table as an alternative living room style option that offers more flexibility when it comes to your living room layout design. For a smaller room, consider a few smaller coffee tables just big enough to provide a surface to put a cup or book on. Always make sure your tables are within easy reach of the living area to ensure your living room layout works.
While coffee tables are usually the focal point of living room schemes, the unusual small coffee table allows you to focus on other aspects of your design scheme such as floor lighting claims or side panels. sculpture. Instead of a large coffee table, try grouping two or smaller coffee tables together into an unstructured, modern foyer in your living room. Pair the different height tables for an interesting visualization.